Safe at Home Project (SAFE)
Serves 600 women and over 1,000 children annually
Prevents domestic violence by providing victims permanent solutions to safety, shelter and economic issues
Protects women and children by keeping batterers away from them and their homes
Helps victims by providing access to:

Shelter
Money for food & basic necessities
Physical & mental health care
Transportation
Karina's Story:
Karina is a 40 year old Pakistani woman with three children, ages 13, 9, and 4. The father of Karina's two eldest children, her first husband, passed away. According to Pakistani tradition, after her husband's death she was required to marry her husband's brother (M.K.). Last year, M.K moved them to the United States where he had legal status and they did not. Their ordeal started as soon as they arrived, a year before they found Legal Aid.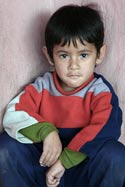 M.K. began by physically abusing the children and continued to physically and sexually abuse Karina. When he threatened to kill her children and nearly strangled her daughter, Karina knew she had to get help. In desperation, Karina fled to a shelter out of county. Karina never went to the police because told by her batterer and others that the police would have her deported and taken away from her children. A shelter advocate, knowing that Karina would not be safe for long without a restraining order, and knowing that Karina could not leave the shelter to return to her home county without such protection, referred Karina to Legal Aid of Sonoma County.
Through Legal Aid's SAFE program, Karina obtained a restraining order against M.K. which ensures Karina's location remains confidential, her custody of her children, and her ability to stop his abuse and control. Finally, the protective order provided for money to help Karina care for her children. Legal Aid also determined that Karina is eligible for domestic violence immigration benefits. This remedy will allow her to work and obtain benefits for her children in the future, helping to ensure that she has no need to return to her batterer.